During 9-11 June 2021, a research team of Global Dryland Ecosystem Programme (Global-DEP), led by Prof. Xiubo Yu, conducted a field trip to Hohhot, Inner Mongolia. The main purpose of this trip is to visit Inner Mongolia Laoniu Foundation (hereinafter referred to as "Laoniu Foundation") to learn about its work related to fragile ecosystem restoration and protection in arid and semi-arid areas of Inner Mongolia, and to lay a foundation for a case study on ecological restoration in drylands planned by the team in the next stage.
Accompanied by Mr. Yaqiang An, Secretary General of LaoNiu Foundation, the team visited the forestry carbon sequestration and ecological restoration project site of "Inner Mongolia Shengle International Ecological Demonstration Zone" on 10 June 2021. The project was jointly designed and launched in August 2010 by the Laoniu Foundation, The Nature Conservancy (TNC), the China Green Carbon Foundation, and the Inner Mongolia Forestry Department in Horinger County, Inner Mongolia. Dr. Kuocheng Lin, Programme Manager of TNC Inner Mongolia, introduced to the team demonstration interventions implemented in the project for enhancing carbon sequestration and ecological restoration in arid and semi-arid regions over the past decade, such as the establishment of nearly 40,000 mu (about 2,667 ha) of carbon sequestration forest in accordance with the Clean Development Mechanism standards, vegetation restoration in barren gullies, grazing management, and the promotion of ecological dryland farming technologies. On the morning of 11 June 2021, the team visited the headquarters of the Laoniu Foundation in Hohhot, and had further exchange and discussion on the possibility of conducting a typical case study on the ecological restoration project in Helinger. Ms. Shuhua Dong, Deputy Director General of Forestry and Grassland Bureau of Inner Mongolia Autonomous Region, Prof. Qingfeng Li from Inner Mongolia Agricultural University and others attended the meeting and provided guidance on the study. Dr. Chao Fu, Head of UNEP-IEMP's Research Unit, presented an overview of Global-DEP on behalf of the team at the meeting.
During the trip, the team gained a relatively intuitive understanding of the ecological restoration and sustainable management model adopted in the Horinger Ecological Restoration Project implemented by Laoniu Foundation, TNC, China Green Carbon Foundation, and other institutions. The team will develop a framework for the case study, based on the information collected in the field, and make efforts to promote the cooperation among different parties to conduct the case study on ecosystem restoration in arid and semi-arid areas of Inner Mongolia.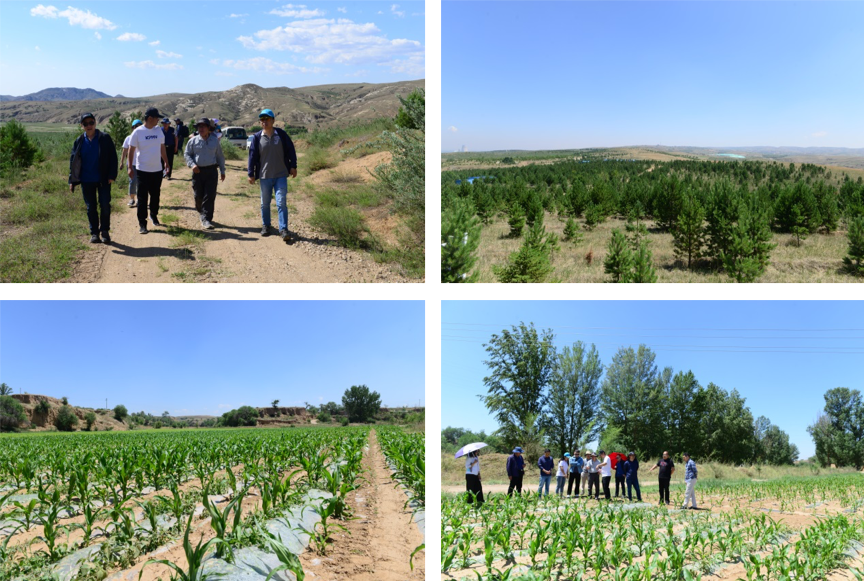 Ecological restoration project sites in Horinger County, Inner Mongolia (10 June 2021)

Meeting at the headquarters of the Laoniu Foundation in Hohhot (11 June 2021)