On November 24, 2020, Ms. Zhang Linxiu, Director of United Nations Environment Programme – International Ecosystem Management Partnership (UNEP-IEMP), and Researcher of the Institute of Geographic Sciences and Natural Resources Research of the Chinese Academy of Sciences, was invited to attend the International Symposium on Ecological Restoration and Management of the Aral Sea and delivered a plenary lecture as a representative of United Nations Environment Programme (UNEP).
More than 200 experts and scholars from research institutions and international organizations were invited to attend the seminar. The discussions involved three main topics, including "the evolution of the Aral Sea, climate change and human activities", "innovative technology and green livelihood under the goal of sustainable development" and "regional cooperation and sustainable development". The seminar focused on the innovation and cooperation for the ecosystem management and regional sustainable development of the Aral Sea, aiming to contribute the wisdom of scientists from all countries to effectively respond to the needs of Central Asian countries for ecological security and sustainable development and enhance their ability to cope with the ecological crisis in the Aral Sea.
In the themed report "Advancing nexus approaches to sustainable development in the Aral Sea basin", Director Linxiu Zhang introduced the Medium Term Strategy (MTS) proposed by UNEP, including Nature-based Solutions (NbS), Innovative model for cooperation, and UN Decade on Ecosystem Restoration. She pointed out that multilateral cooperation plays an important role in the realization of sustainable development. At the end of the speech, director Zhang took the "Climate, Ecosystem and Livelihood (CEL) Flagship Programme of UNEP as an example to demonstrate the possibility of applying Nexus approaches to promote ecosystem restoration and livelihood improvement through systematic innovation.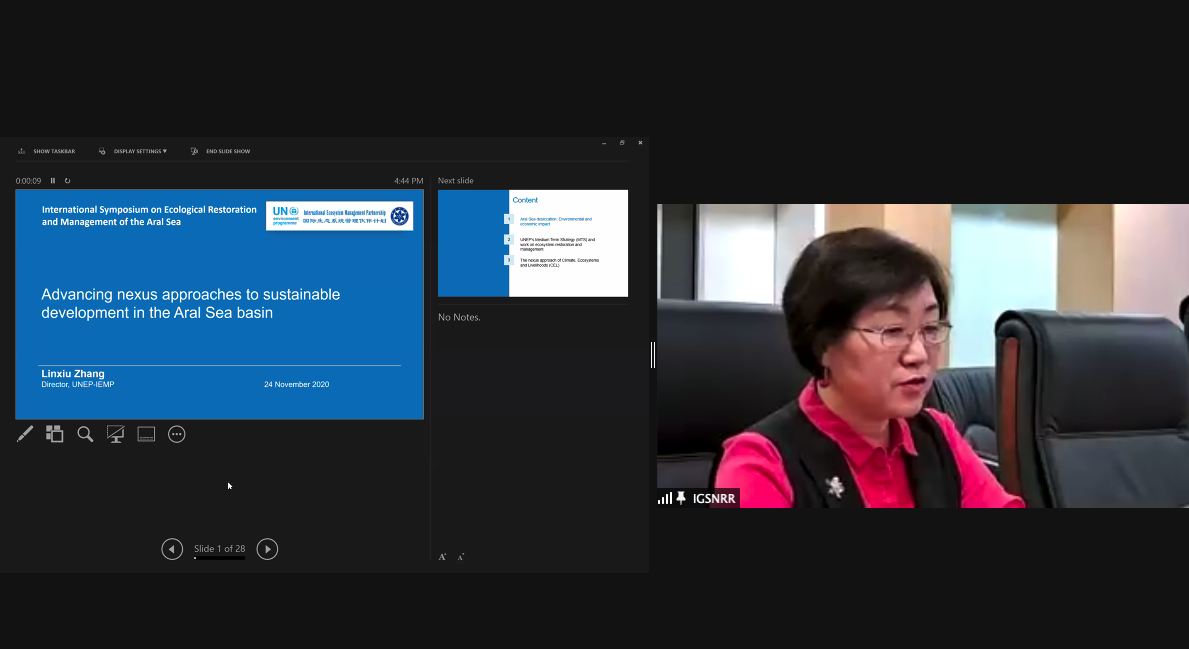 Professor Linxiu Zhang attended International Symposium on Ecological Restoration and Management of the Aral Sea