On 11 December, 2020, Ms. Zhang Linxiu, Director of United Nations Environment Programme-International Ecosystem Management Partnership (UNEP-IEMP), and Researcher of the Institute of Geographic Sciences and Natural Resources Research of the Chinese Academy of Sciences (CAS), was invited to attend a Policy Dialogue on "China's Experience in Strengthening Food Systems amid the Response to COVID-19" and participated in the panel discussion at the UN Compound in Beijing.
In the report titled "Root and Foundation: Strengthening Small-Scale Farming System to Cope With The New Crown Epidemic and Climate Change, and Promoting Sustainable Development", Director Zhang and Yongping Yang, Researcher of Xishuangbanna Tropical Botanical Garden of CAS, introduced the role of Small-Scale Farming System, focusing on the current situation of global food and nutrition security, the impact of the COVID-19 and climate change, and the solutions and policy recommendations for the problems exist in the current food system.
In addition, she shared China's experiences on strengthening the food system. Taking the pilot project in the Stone Town in Yunnan Province as an example, she demonstrated how these Chinese small farmers enhanced the resilience of their food system and improved their ability to cope with the pandemic by establishing their own seed banks. The report received positive feedbacks and generated discussions among the participants.
Under the auspices of the Resident Coordinator, nine UN entities coordinated by ESCAP's Centre for Sustainable Agricultural Mechanization (CSAM) invited partners from central and local government, academia, private sector, and think tanks, for a reflection on how to address the fragility of food systems that has been highlighted across the world by the pandemic.
This policy dialogue identified recommendations on how to restore robust and resilient food systems, ensure food security for the most vulnerable, and protect ecosystems and food systems. These are meant to be the stepping stone for the work of the United Nations in China towards the global Food Systems Summit in 2021.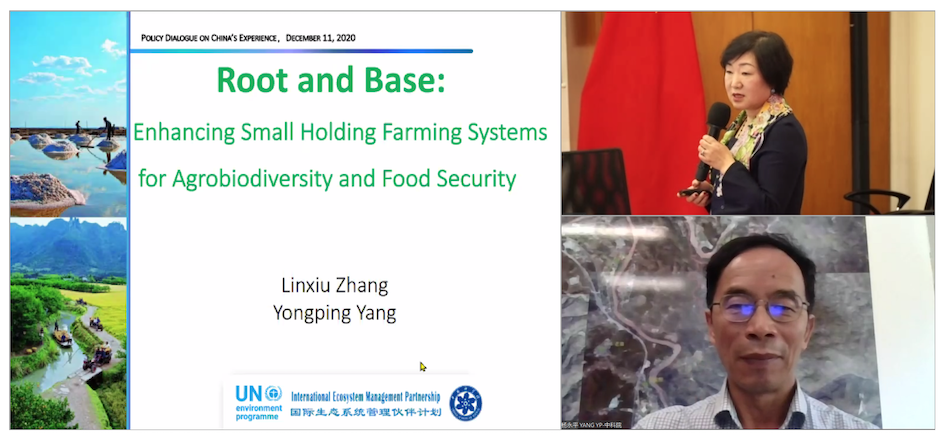 Director Zhang and researcher Yongping Yang delivered a report at the Policy Dialogue
For more information, please visit: