Dryland Social-Ecological Systems has become an issue of global concern
The Scientific Steering Committee of the Global Land Programme (GLP) has recently launched a GLP working group on "Global Dryland Social-Ecological Systems". The working group was proposed and coordinated by Prof. Bojie Fu, Academician of the Chinese Academy of Sciences, Dr. Mark Stafford Smith, Honorary Scientist of the Commonwealth Scientific and Industrial Research Organisation (CSIRO), Prof. Dennis Ojima from Colorado State University, and Prof. Xiubo Yu from the Institute of Geographic Sciences and Natural Resources Research of Chinese Academy of Sciences.
The working group aims to promote global collaboration and exchange among researchers, and graduate students in the field of dryland social-ecological systems (SESs) by organizing workshops, enhancing communication and outreach, and releasing newsletters through the GLP public network. The first period of this working group will run from 1 January 2021 to 31 December 2023.
The working group was developed on the basis of Global Dryland Ecosystem Programme (Global-DEP), a key international cooperation project of the Chinese Academy of Sciences. Since 2017, Prof. Bojie Fu and Dr. Mark Stafford Smith have co-chaired Global-DEP Scientific Committee and its annual meetings and organized regional consultation workshops in Australia and Africa, as well as a parallel session of Global-DEP at GLP Open Science Meeting held in Switzerland. They put forward a conceptual framework of global dryland SESs as the basis of Global-DEP Science Plan to be launched by the end of 2021, so as to promote the monitoring, assessment, and sustainable management of global dryland SESs. The Secretariat of Global-DEP Scientific Committee is hosted by the Synthesis Center of Chinese Ecosystem Research Network, with support from the United Nations Environment Programme - International Ecosystem Management Partnership (UNEP- IEMP).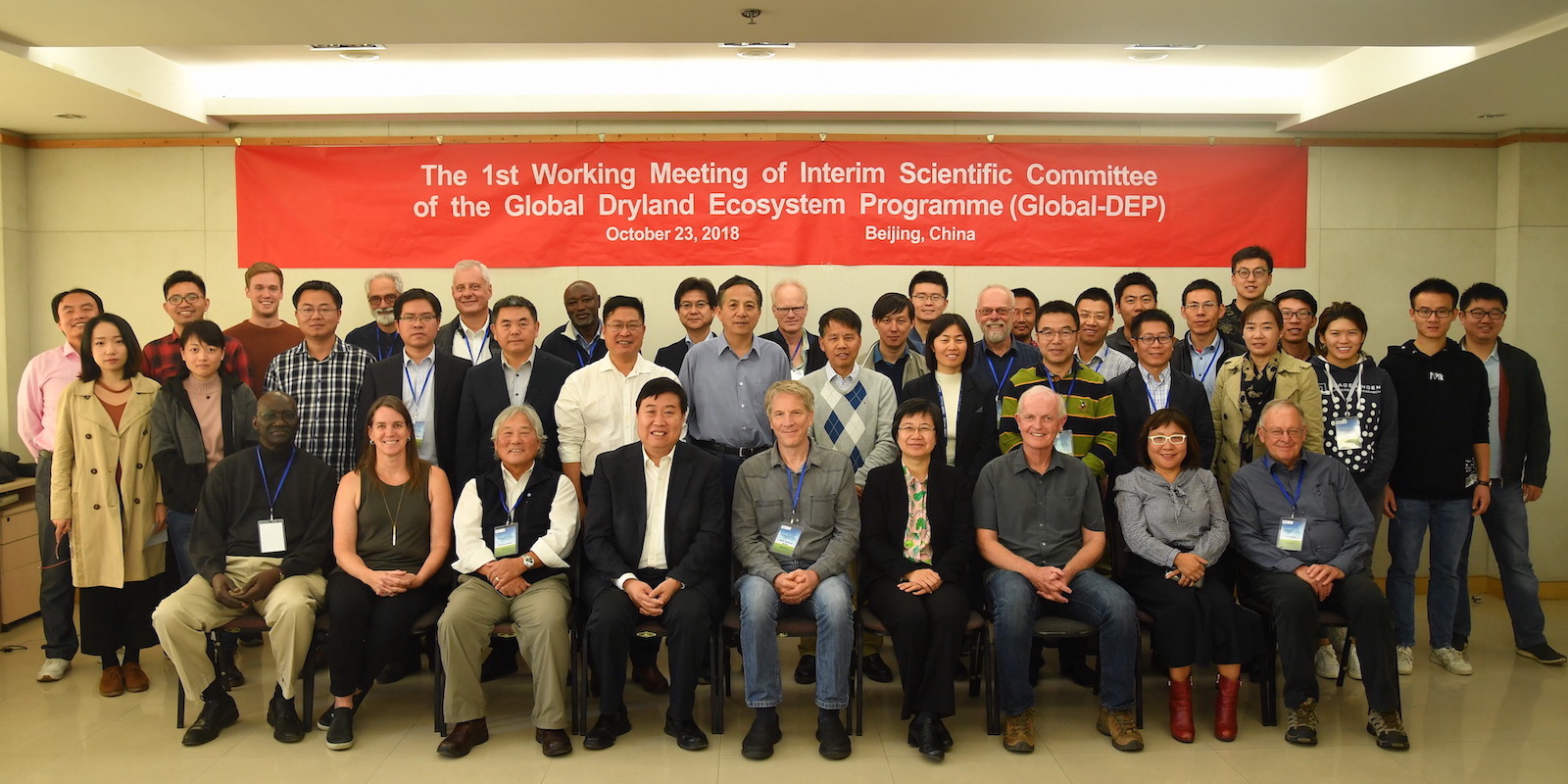 Group photo of the First Working Meeting of Global-DEP Scientific Committee
Front row, from the left: Prof. Bojie Fu (fourth), Dr. Mark Stafford Smith (fifth), Prof. Yanfeng Wang (sixth)
Global Land Programme
The GLP is an interdisciplinary community of science and practice fostering the study of land systems and the co-design of solutions for global sustainability. It builds on the land system science that connects social, economic and natural systems and was entrusted as a core project under the International Geosphere-Biosphere Programme (IGBP) and International Human Dimensions Programme on Global Environmental Change (IHDP). Over the past 20 years, the GLP has provided an integrated and innovative platform for academic exchange and data sharing platform with a remarkable track record for many other international programme and projects.
Welcome to join
Those who are interested in joining the working group need to: 1) apply to become a CLP member by clicking "Become a Member" in the menu bar at: https://glp.earth/, and 2) send an email by clicking "Join This Working Group" on the group page: https://glp.earth/how-we-work/working-groups/global-dryland-social-ecological-systems. If you have any questions or issues in applying for working group membership, please contact the group administrator at global-dep@cern.ac.cn.