11-13 July 2021, the 2021 Eco Forum Global was held successfully in Guiyang, Guizhou, China. Dr. Linxiu Zhang, Director of United Nations Environment Programme – International Ecosystem Management Partnership (UNEP-IEMP), was invited to attend the opening ceremony in the morning of 12 July, and gave a keynote speech at the theme forum "Lucid Waters and Lush Mountains are Invaluable Assets" in the same day afternoon.
In Director Zhang's speech on Conserving Biodiversity and Enhancing Community Livelihoods through Integrated Approaches, Dr. Zhang stressed the interlinked nature of the Sustainable Development Goals (SDGs), and the vicious cycle of ecosystem degradation, climate change and poverty that developing countries are facing. A nexus approach on Climate, Ecosystem and Livelihoods (CEL) was introduced in her speech with the importance of developing green livelihoods highlighted. Several cases from China and other developing countries were mentioned as examples of the application of the CEL approach.
Key messages from Director Zhang's speech include:
SDGs are interlinked and require the application of systems thinking and integrated approaches to address trade-offs and exploit synergies.

Integrating the development of green livelihoods into biodiversity conservation and ecosystem restoration while addressing the negative effects of climate change is one of the means of mainstreaming nature.

At the implementation level, the role of community participation, women empowerment, integrating of traditional wisdom and modern scientific knowledge, private sector engagement, and long-term partnerships are important elements.

Application of the CEL nexus approach in rural areas of developing countries will contribute to the effective implementation of the SDGs and needs to be promoted and scaled up through South-South Cooperation.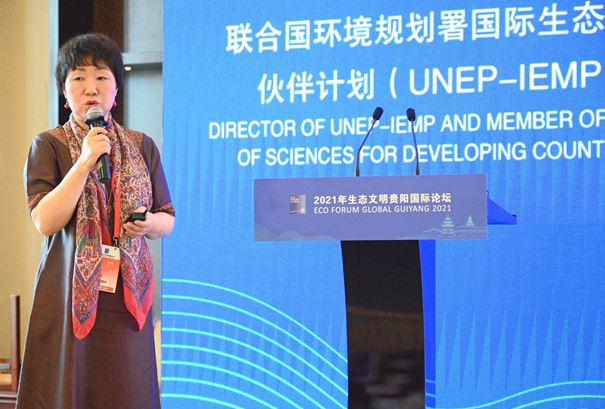 Director Linxiu Zhang Delivered a Keynote Speech
Eco Forum Global is a non-profit, international high-end platform, aiming at promoting eco-civilization by convening global leaders from government, business, academics, media and civil society for building a resource-saving and environment-friendly society. It is the first and only state-approved international platform on the theme of ecological civilization in China.