14-15 October 2021, Ecological Civilization Forum held successfully during the first part of the UN Biodiversity Conference COP 15. About 2000 participants from across the globe joined the Forum, on-site and on-line, exchanging views and ideas on enhancing biodiversity conservation for a bright future of harmonious coexistence between man and nature.
The Ecological Civilization Forum is divided into 3 parts: opening ceremony, 7 breakout thematic forums and closing ceremony. Susan Gardner, Director of Ecosystems Divison UNEP, pointed out during her speech at the opening that "an ecological civilization defies time; if we are to ensure a sustainable future for all, then raising ambition for nature and delivering on this ambition must be a top priority."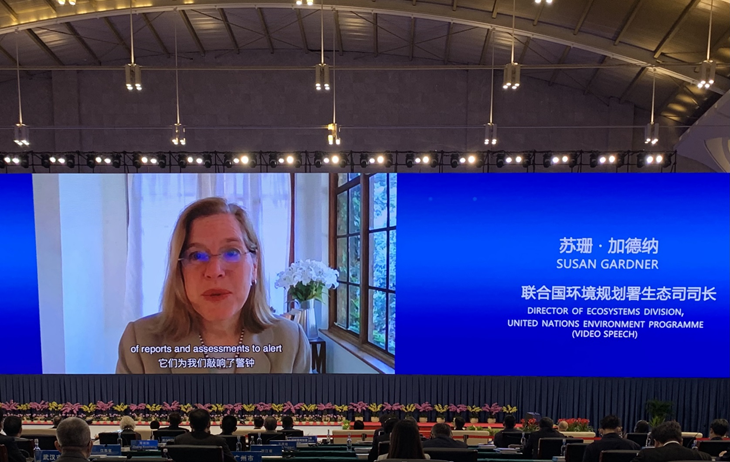 Susan Gardner delievring opening address at the ECF
UNEP-IEMP, together with Chinese Ecological Civilization Research and Promotion Association and Research Institute for Eco-civilization, Chinese Academy of Social Sciences co-hosted Thematic Forum 3: Lucid Waters and Lush Mountains are Invaluable Assets: from Concept to Practice. China's concept of "Lucid Waters and Lush Mountains are Invaluable Assets" and the practice of the Green to Gold transformation are a common topic of concern for the participants. Mr. ZHAO Yingmin, Vice Minister of MEE China, Mr. REN Junhao, Vice Governor of Yunnan Province, Mr. WANG Linggui, Vice President of Chinese Academy of Social Sciences, Ms. Doreen Robinson, Head of Biodiversity and Land UNEP and Ms. Diane Holdorf, Managing Director of WBCSD gave opening speeches at the thematic forum.
Twenty guests from international organizations, academic institutions, local governments, NGOs and enterprises discussed in depth and offered suggestions through keynote speech and dialogues. A total of about 400 online and offline representatives attended the thematic forum.
Dr. Linxiu Zhang, Director of UNEP-IEMP made a keynote speech on Promoting Synergies in Addressing Challenges of Climate Change, Ecosystem Degradation and Livelihoods: Experiences and Implications. She stressed that the interconnected nature of the UN SDGs and challenges in achieving these goals. In particular, the vicious cycle of ecosystem degradation, climate change and poverty that developing countries are facing will need the application of system thinking and integrated approach to address trade-offs and stimulate synergies. She presented the effectiveness of the integrated approach derived from the UNEP "Climate, Ecosystems and Livelihoods" Flagship Programme in addressing such issues, suggesting the development of green livelihoods as a means of mainstreaming natural capital by integrating biodiversity conservation and ecological restoration while addressing the impact of climate change.
As the only parallel event held offline during the first part of COP 15, the one-and-half-day event delivered more than 10 outcomes. In the closing session, all delegates jointly released the initiative for "Protecting Biodiversity for a Shared Global Ecological Civilization", calling on all parties to uphold the concept of a community with a shared future for mankind, work together and take action to build a beautiful world in harmony with all things.