On October 28, Dr. Linxiu Zhang was invited as a panellist at a live debate organized by Friends of Europe to discuss the outcomes of the first part of the CBD COP15, and look ahead to what Europe and Asia can do together as they look to protect and promote global biodiversity.
The debate began with opening remarks by Mr. Zhang Ming, Ambassador of the People's Republic of China to EU. Dr. Linxiu Zhang first shared her observation on the outcomes of CBD COP15 Part One and remain optimistic when looking ahead. She then made interventions on what are areas of priorities for Europe and Asia to work together ahead of the main Conference of the Parties. She emphasized that promoting synergistic action for biodiversity, climate, land and oceans, and livelihoods is very important because Earth's environmental emergencies and human well-being need to be addressed together to achieve sustainability. The development of goals, targets, commitments and mechanisms under multilateral environmental agreements and their implementation need to be aligned to become more synergistic and effective. The change should be geared with a range of actions that can simultaneously enhance biodiversity and deliver economic prosperity. She also emphasized that supporting community participation and women's empowerment should also be made as a priority. Indigenous people and local communities contribute to the conservation and sustainable use of biodiversity through the application of traditional knowledge, innovations and practices, and through the stewardship of biodiversity on their traditional lands and territories.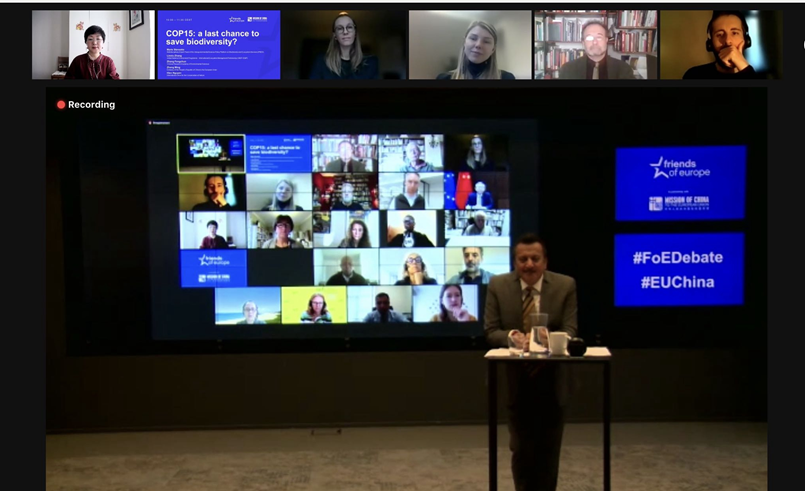 Director Linxiu Zhang (top 1 from the left side in the picture) sharing her opinions on the debate
This discussion is part of Friends of Europe's discussion series on Europe-China Dialogue which sets within a broader Europe-Asia dialogue. For watching the livestream, please visit Friends of Europe's website at http://www.friendsofeurope.org/.