On 28 January 2022, UNEP-IEMP participated in the 1st Extended Partners' Meeting of the "Improving Ecosystem Management for Sustainable Livelihoods in Cambodia and China within the Framework of Lancang-Mekong Cooperation Project", financed by the UNEP-China Trust Fund Phase 2.
This project is jointly implemented by UNEP-IEMP, UNEP Regional Office for Asia and the Pacific, UNEP headquarters (Ecosystems Division) and Lancang-Mekong Environmental Cooperation Centre (LMEC). Under this project, UNEP-IEMP is in charge of the regional activities related to knowledge generation and capacity building. Besides, UNEP-IEMP collaborates with the Ministry of Environment, Government of Cambodia, in piloting of ecosystem management and local livelihoods improvement interventions at the Phnom Kulen National Park, along with associated consultation and capacity building activities.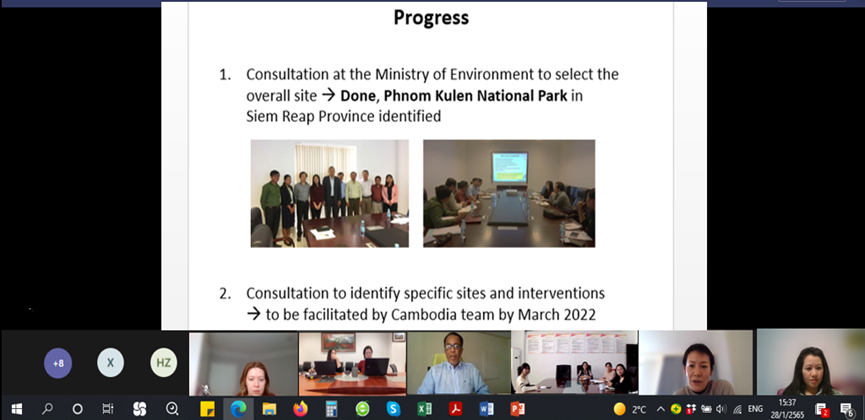 1st Extended Partners' Meeting was held online
The meeting was the first gathering of all the project's core teams and extended partners from Cambodia and China to present their plan and progress so far, as well as to discuss the synergies and next steps. Ms. Tatirose Vijitpan, Focal Point of the Greater Mekong Sub-region Portfolio, gave presentation on the activities implemented by UNEP-IEMP and linkages with activities of other teams.