UN Environment Programme-International Ecosystem Management Partnership (UNEP-IEMP) Director, Dr. Linxiu Zhang was invited as a specialist to present the closing remark at Launching Ceremony of COMSTECH Forum on Environment and Ecosystem Restoration (CFEER) and COMSTECH International Seminar on "Land Degradation" on 6th June 2022. The ceremony was intended to commemorate World Environment Day, which was organized by COMSTECH in Partnership with UNEP-IEMP and Center for Water Research Technologies (CERTE), Tunisia.
In the closing remarks, Dr. Linxiu Zhang expressed her congratulations on the successful launching ceremony. She pointed out that healthy ecosystems were critical and such a standpoint had been echoed clearly and sufficiently by almost every of the speakers. Then her observations and reflections on the key messages conveyed on the ceremony were shared, including needs for action on collaboration and cooperation globally, the importance of synergy and nexus approaches, and responsible individuals for the large-scale changes.
Finally, she showed her glad to witness the establishment of COMSTECH Forum on Environment and Ecosystem Restoration, and claimed that UNEP-IEMP would be willing to collaborate with the new organization.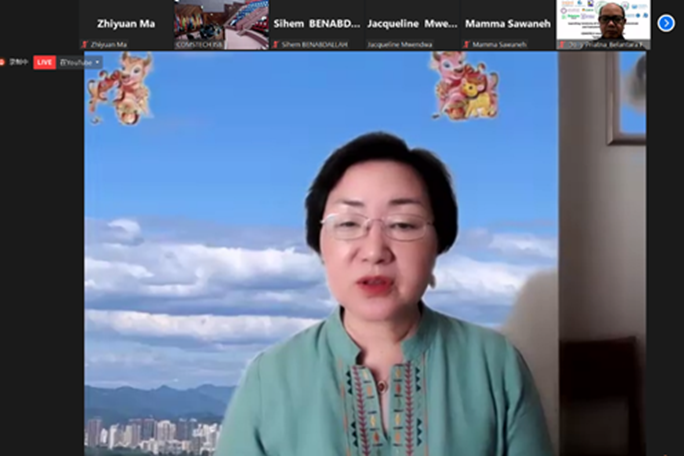 Dr. Linxiu Zhang presenting the closing remark online
The ceremony began with inaugural session with Ambassador Shahid Kamal, Advisor (Climate Change), COMSTECH. During the ceremony, several specialists addressed speeches based on their research about land degradation worldwide. For more information about the ceremony, please visit COMSTECH's website.