June 21-23, 2022, UNEP-IEMP, as the TEEBAgriFood China implementation leading team, joined the TEEBAgriFood Asia, Africa and Europe Regional Symposium hosted by United Nations Environment Programme (UNEP). The Symposium aims to share lessons learnt applying the TEEBAgriFood Framework towards food systems transformations across the regions. Representatives from government, academia, international organizations and the private sector across China, Kenya, Tanzania, Uganda, Georgia, India, Indonesia, Thailand and Malaysia actively participated.
On Day 2 of the event, Dr. LI Jun-sheng, Chair of the TEEBAgriFood China Project Steering Committee, gave his remarks at the high-level panel, introducing China's initiatives and achievements in biodiversity conservation and ecosystem restoration, and highlighting that a balanced development of sustainable agricultural development, ecological protection and agricultural modernization is important for the country in stepping into the new era.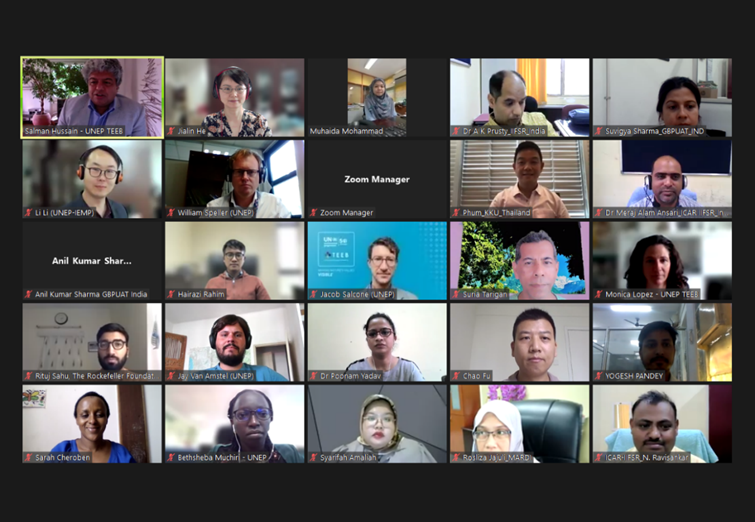 A screen capture showing speakers and panelists
In the thematic session of Applying TEEBAgriFood in Multi-functional Landscapes, Dr. Li Li, the research union member of UENP-IEMP, on behalf of the TEEBAgriFood China implementation team gave a presentation and introduced the progress of the Tengchong pilot study with reference to the country's agricultural context and highlighted the linkages with the national priorities.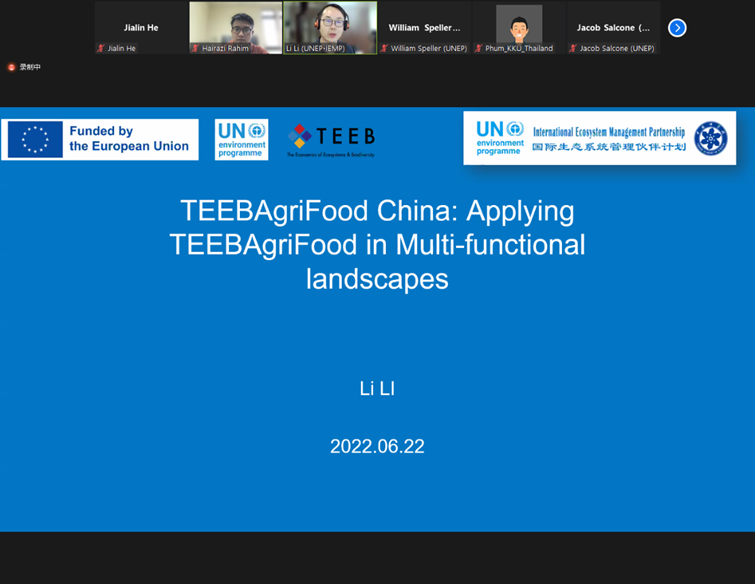 Dr. Li Li making a presentation about the TEEBAgriFood China project
The 3-day symposium attracted more than 200 participations online, and instigated discussions on the mainstreaming of nature's value into decision-making in agriculture and food systems.