Under the "Improving Ecosystem Management for Sustainable Livelihoods in Cambodia and China within the Framework of Lancang-Mekong Cooperation Project", financed by the UNEP-China Trust Fund Phase 2, the National Awareness Raising on Integrated Ecosystem Management was organized on 23 June 2022 by the Ministry of Environment, Government of Cambodia. The event took place in Phnom Penh with virtual participation and presentation by UNEP-IEMP. It was participated by approximately 100 participants from various government agencies (both at central and provincial levels), NGOs, and academic institutions. Its objectives were mainly to share good practices for ecosystem management for sustainable livelihoods within other protected areas or projects in Cambodia and in China as well as to preliminary identify private sector or stakeholders interested in participation and upscaling of the project interventions.
In this regard, Ms. Guoqin Wang and Ms. Tatirose Vijitpan from UNEP-IEMP shared the good practices of landscape management and ecosystem restoration for sustainable livelihoods in China. The presentation covered experiences from the Chinese Ecosystem Research Network (CERN, Chinese Academy of Sciences) on ecosystem monitoring and its cases on environmentally friendly rubber plantation, and restoration and agroforestry for red soil and hilly region; as well as multiple benefits of bamboo plantation. Those cases have been selected for their relevance to Cambodia, particularly the project's site at Phnom Kulen National Park in Siem Reap province.
The session was well-received with many relevant questions from the participants to learn more about the direct experience from China. These include the challenges to cooperate with local farmers in agroforestry, the incentives provided to the farmers and other technical questions. It was concluded that the session was very helpful for the implementation of project site interventions.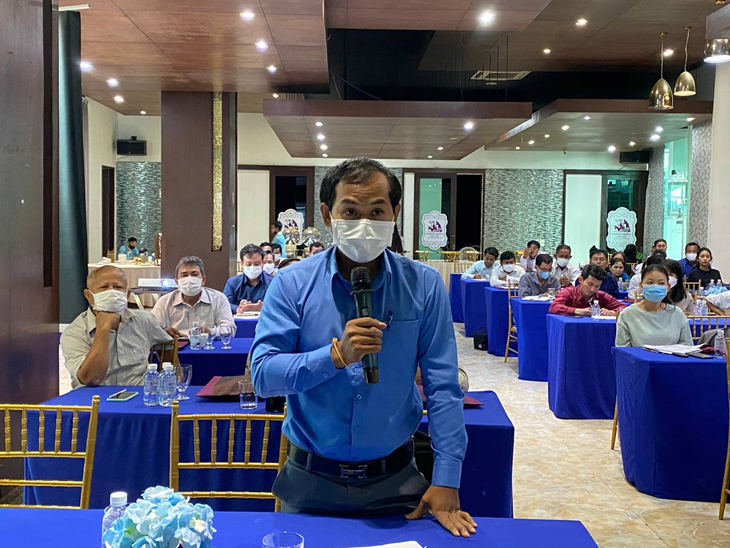 The venue for the workshop event in Cambodia
This was an important opportunity to promote the knowledge exchange and learning on integrated ecosystem management and South-South cooperation. Moreover, as requested by the Cambodia team, UNEP-IEMP will also engage Chinese expert to provide capacity building on bamboo for ecosystem restoration and livelihoods improvement for local participants at the Phnom Kulen National Park.