On August 15, 2022, Dr. Linxiu Zhang, Director of the United Nations Environment Programme International Ecosystem Management Partnership (UNEP-IEMP), was invited to give a keynote speech at the Huzhou Forum on the "Green is Gold". The forum was guided by China Association for Science and Technology and Zhejiang Provincial People's Government, hosted by Huzhou Municipal People's Government, and organized by Huzhou Normal University and the Publicity Department of the CPC Huzhou Municipal Committee.
In her keynote speech entitled "Promoting the Realization of the Values of Nature and a Harmonious Development of People and Nature", Dr. Zhang Linxiu started from introducing relevant initiatives at the UN level and used The Economics of Ecosystems and Biodiversity (TEEB) as an example of key international initiatives to understand the importance of nature. TEEB's application in Tengchong City of Yunnan Province, which is a national "Green is Gold" practice innovation base, was shared. Dr. Zhang pointed out that natural systems provide important values for human production and life, and that understanding agro-food systems from a systems perspective is an important way to address the multiple challenges of climate change, biodiversity loss and pollution, and to achieve sustainable development goals in the context of the current pandemic and the intensifying conflict between Russia and Ukraine.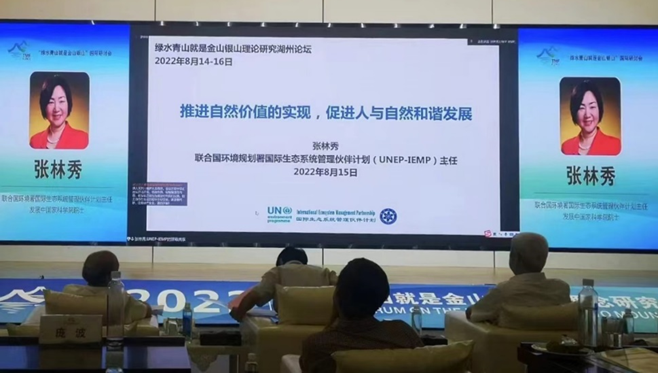 Director Linxiu Zhang delivered the keynote speech
More than 150 experts and scholars attended the conference and shared their views on the forum theme from multiple levels and perspectives.