Under the "Improving Ecosystem Management for Sustainable Livelihoods in Cambodia and China within the Framework of Lancang-Mekong Cooperation Project", financed by the UNEP-China Trust Fund Phase 2, the "Training on Bamboo for Ecosystem Restoration Management and Local Livelihoods" was organized by the Ministry of Environment, Government of Cambodia, during 22-24 August 2022. It took place at the project pilot site - the Phnom Kulen National Park in Siem Reap province. The event gathered 58 participants (20 female), mostly from the Community Protected Areas (CPAs) within the national park. With an overall aim to provide general knowledge on bamboo and its utilization to restore ecosystem and to provide additional income for the CPAs, the training on day 1 and day 3 consisted of theoretical knowledge on overview on bamboo resources and development; bamboo forest management; bamboo propagation; bamboo plantation; edible bamboo shoot cultivation and processing; and bamboo value chain and the utilization of bamboo materials. Day 2 was the field practice on bamboo propagation, nursery and clump management. Importantly, the training also included a field session on how to integrate bamboo into existing cashew nut orchard to diversity income sources by replacing old (and low productive) cashew trees with bamboo. The discussions also provided participants with ideas to integrate other annual crops (e.g. ginger, pineapple) within cashew tree orchard.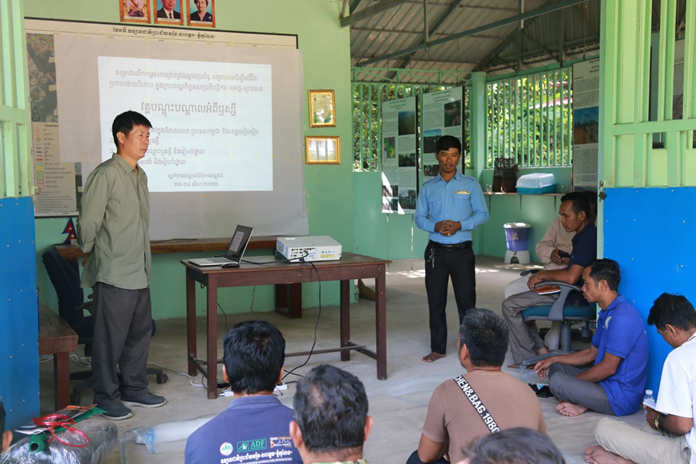 The venue for the training at the project pilot site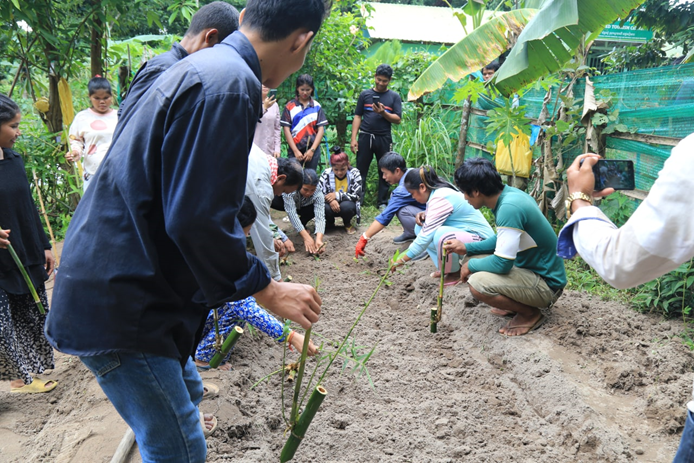 The field practices
As the Phnom Kulen National Park is an area where we can observe movements of the local communities into the national park and cashew plantation has become their major source of income, this hands-on training offers an important opportunity for the communities to learn about an alternative livelihood option that may also help to prevent deforestation for agricultural expansion (for cashew in this case). Moreover, as requested by the Cambodia team, UNEP-IEMP has invited an expert from China (International Network for Bamboo and Rattan – INBAR, based in Beijing) to share knowledge, experience, lessons and recommendations through recoded videos. The training was well-received, and rated 'satisfied' by all the participants. The training also provided bamboo culms at the tree nursery at the community-based tourism center for interested community members to further plant.