On 9 December 2022 local time, the "small farmers, farmer seeds systems and sustainability" side event was successfully held during the second phase of the CBD COP15 in Montreal. As the only side event touching on agro-biodiversity, it brought to the audiences' experiences of nearly two decades of community-based farmer seed and food system initiatives on different continents and in different cultural contexts. It hopes to demonstrate the effectiveness of community-based conservation and farmer-led solutions to reverse the deterioration of genetic resources, biodiversity and ecosystem.
Dr. Linxiu Zhang, director of UNEP-IEMP, opened the event on behalf of the hosting organizations. She began with the importance of biodiversity in providing smallholder farmers with resilience to risk and ongoing adaptation to climate change, and how collective and transformative action is needed to build more resilient agri-food systems. She also stressed that the conference would be an open and inclusive platform crossing institutional and disciplinary boundaries and that exchanging practical experiences and innovative initiatives can facilitate better action for sustainable development.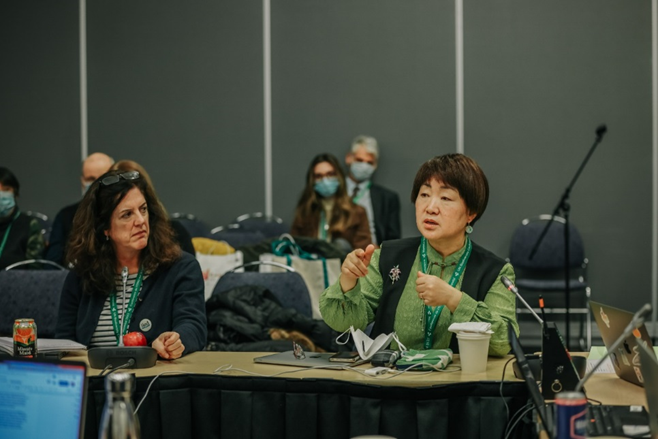 Director Linxiu Zhang delivered an open remark
Dr. Yiqing Song, UNEP-IEMP researcher and founder of the Farmers' Seed Network, gave a keynote presentation emphasizing smallholder farmers as the fundamental actors in agriculture and in maintaining biodiversity and coping with climate change, especially with policy recognition and support.
In closing, the partners launch the "Joint Montreal Declaration of Supporting Small Farmers and Indigenous Communities" to promote multi-stakeholder exchange and cooperation in farmer seed systems enhancement for sustainable biodiversity and traditional knowledge conservation and utilisation for the Post-2020 Global Biodiversity targets and SDGs.