The Annual Meeting of the Association of American Agricultural and Applied Economics (AAEA) was held in Washington, DC during July 23-25, 2023. The AAEA Annual Meeting is one of the most authoritative conferences in the fields of agricultural economics, development economics and resource economics. The purpose of the China Section is to promote cooperation between AAEA members and other researchers in the fields of agriculture and applied economics related to China, to disseminate knowledge and mentor young scholars interested in these field, and to serve as an academic bridge between AAEA and other scholars around the world who are interested in China's agriculture, development, and resource economics. More than 140 papers were submitted to the China Section of this annual meeting, and 32 papers were selected for the annual meeting report.
Dr. Yunli Bai from the UNEP-IEMP research unit was invited to attend the China Section. Dr. Bai chaired the session on the theme "Public Policy and Inclusive Development in Rural China" and gave the oral presentation entitled "Off-Farm Employment, Agriculture Production Activities, and Household Dietary Diversity: Evidence from Five Developing Countries in Asia". This paper built a conceptual framework based on the household decision model. Based on the data collected by the UNEP-IEMP at the level of farmers and their family members in typical environment-economic fragile zones in five countries of East Asia, South Asia and Southeast Asia, the paper estimated the impact of off-farm employment on the household dietary diversity and analyzed the role of the crop diversity and livestock and poultry raising from income effect, the substitution effect and the complementary effect between agricultural and off-farm activities. After the assessment of experts, this paper won the 2023 AAEA China Section "Excellent paper Award", one of the two awarded papers.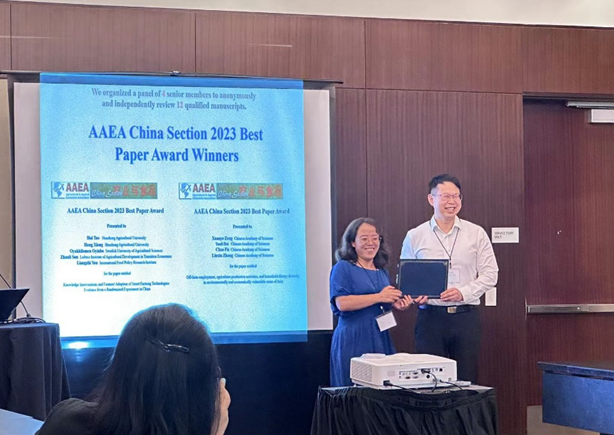 Dr. Yunli Bai was awarded the 2023 AAEA China Section "Excellent paper Award"
In addition, Dr. Bai also participated 3 keynote presentations and 6 session presentations, as well as had interactive discussions with scholars from many universities in the United States, New Zealand, and Australia. She said that her research perspective was broadened, research method was improved, and established contacts with young scholars from many universities, laying a foundation for further exchanges and cooperation in the future.