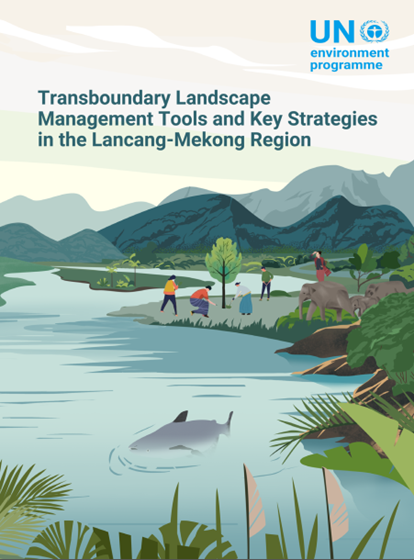 The publication presents knowledge and experience on transboundary landscape management in the Lancang-Mekong region, which is one of the world's richest biodiversity hotspots and fastest-growing areas. It contains an inventory of tools that are useful for transboundary landscape management in this region and beyond. It also presents five strategies for effective transboundary management implemented in all countries across a variety of landscapes in the region, with highlights of case studies that demonstrate both conservation and livelihood outcomes that yield significant benefits for people and planet.
The report reveals that transboundary ecosystem management has been gaining attention in the region over the past decades with primary objectives covering not only the conservation of ecosystems (particularly important biodiversity areas and wildlife habitats) but also enhancing the livelihoods of those (often marginalized) groups of people living along the boundaries. Cooperation on the interconnectedness of human and natural systems is central to landscape management success and this cooperation can take place at various levels – between national governments, sub-national agencies, researchers and communities. Moreover, currently there is no transboundary cooperation for the internationally designated sites in the region; hence an opportunity to start with some of the priority transboundary landscapes to maintain their viability and ecological integrity. In terms of application of tools, the most common challenges faced in the region include data availability and data sharing in transboundary landscapes, as well as limited capacity for those tools that require technical expertise, such as spatial tools.
This is a knowledge product prepared under the context of the project "Improving Ecosystem Management for Sustainable Livelihoods within the Framework of Lancang-Mekong Cooperation", funded by the Ministry of Ecology and Environment of the People's Republic of China, through the China Trust Fund to UNEP.
The report is available: https://wedocs.unep.org/20.500.11822/43893 and http://www.unep-iemp.org/periodical_41_page1.html