On October 21, 2021, Ms. Tatirose Vijitpan, Climate Change Adaptation Specialist and Focal Point of the Greater Mekong Sub-region Portfolio, UNEP-IEMP, gave a lecture for the Executive Master in Development Policies and Practices, under the Graduate Institute - Geneva (IHEID) and Asian Institute of Technology (AIT).
Under the topic of "Ecosystem-based Adaptation (EbA): principles and applications in the Mekong and other regions", her talk covered the background of EbA, its key principles, benefits and co-benefits, examples of EbA initiatives, how to conduct EbA interventions, challenges, among others. Examples and lessons from the "Ecosystem-based Adaptation through South-South Cooperation (EbA South)" project that UNEP-IEMP served as the project management unit during 2013-2020 were also shared. The lecture was well-received, with various pertinent questions from the students as well as interest of application of some of the EbA South knowledge products.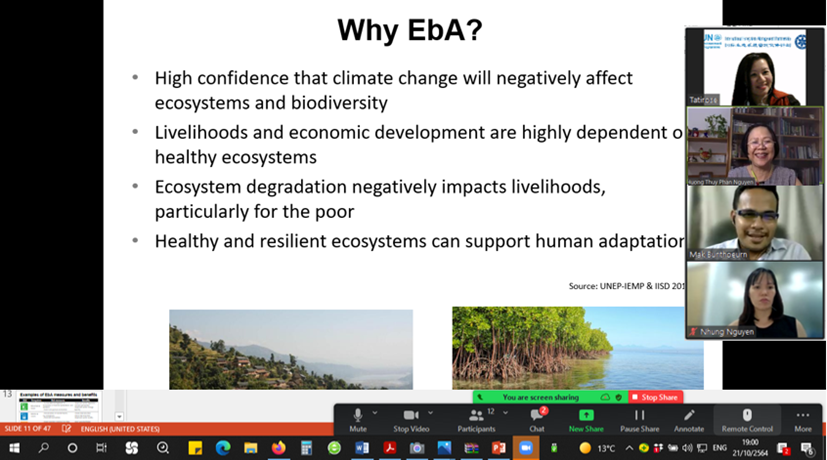 Ms. Tatirose Vijitpan from UNEP-IEMP (top 1 in the picture) giving lecture on Ecosystem-based Adaptation (EbA)
UNEP-IEMP promotes institutional cooperation in the Climate, Ecosystems and Livelihoods (CEL) areas in developing countries. This lecture served as a good opportunity to share the lessons learned from UNEP-IEMP's project implementation process and enhanced the potential of future collaboration between institutions.
For more information, please contact Tatirose Vijitpan, tatirose.vijitpan@unep-iemp.org.